The 1950s
Growing up under the benign care of Mr Menzies.
1959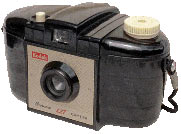 I bought my first camera (for £1 15s 9d) and took pictures of vintage cars.
1958
I learned beekeeping at school.
1957
My family moved to a new house, designed by my father. I moved to the local one-teacher school. My sister Fiona was born.
1956
I got into trouble, 'cause I didn't learn my spelling.
1955

Grade 1, Junction Park State School.
1954
My older brother Ian was killed on the road. My father went to hospital for a year with tuberculosis. Our house was sold. My mother and I lived under my grandparents' house. Not a good year.
1953
I don't remember.
1952
I don't remember.
1951
I don't remember.
1950
I don't remember.
1949