The windmill
The windmill, built in 1828 to grind flour for the Moreton Bay penal settlement, is the oldest European structure in Queens­land. The project to conserve it was recognised by a John Herbert Award from the National Trust, as well as state and national awards from the Institute of Architects.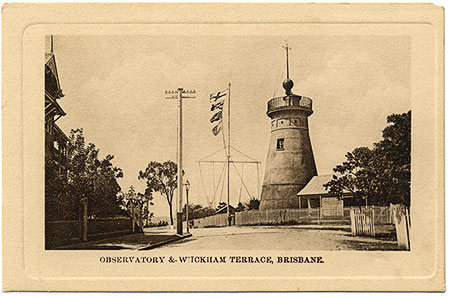 The windmill on Wickham Terrace is one of only two buildings that still remain from the Moreton Bay penal settlement of 1824–​1842. In 1861 the mill machinery was removed, and it became an observation tower​—​part of a signal station which announced shipping movements by means of flags flown from a tall flagstaff nearby. That was the first and most radical of a long series of changes in the use of the structure.
In 1987 a group of firms involved in building the Central Plaza office tower in the Brisbane CBD offered to help the Brisbane City Council to 'refurbish' the windmill.by donating $160,000 and their own skill. The new tower was due to be opened in mid-​1988, and the Project Team wanted the work on the old tower to be finished at the same time. The Council accepted this offer, and the Project Team began by removing cement render from the walls of the windmill. This happened in the days before any heritage legislation had been enacted in Queensland.
When the scaffold went up and masons started stripping the render from the tower, there was a loud community reaction. The Project Team, concerned about the adverse publicity, asked Allom Lovell Marquis-Kyle for advice. We very quickly as­sem­bled a team, prepared a conservation plan, and advised on the conservation work.
Consultant historian Fiona Gardiner and I wrote the con­ser­vation plan which outlined the history of the place, explained its his­tor­ical significance as a unique piece of evidence of Brisbane's con­vict beginnings, and recommended conservation policies. Special care was needed​—​to decide on the most responsible course of action, and to explain it to the community.
Geologist and conservation specialist Dr Allan Spry assessed the condition of the masonry. He confirmed that the soft convict brick­work needed to be protected from weathering, and advised on the replacement of the protective render. Photographer Richard Stringer recorded the structure before the render was re-applied. Engineer Geoff West identified weaknesses in the timber stairs and floors, and joiner Peter Heather made repairs and reinforcements.
We proposed erecting a tall flagstaff on the site​—​a replica of the one that was an essential part of the signal station. Jinx Miles made a very careful analysis of all the available photo­graphs, to get the details right. Archaeologist Gillian Alfredson made ex­plor­at­ory excavations to confirm the exact location of the flagstaff base.