Government House Brisbane: the hall floor
The merchant Johann Heussler had the house
Fernberg
built at Paddington in 1865. It was a substantial villa designed by archi­tect Benjamin Backhouse and set in expansive grounds. In 1882 the property was bought by parliamentarian John Stevenson who commissioned the architect Richard Gailey to extend it. The Gailey additions included a new entrance and hall​—​site of the floor that was the focus of this project.
From 1910 the house became the official residence of the Gov­er­nor of Queensland, after Old Government House was turned over to the University of Queensland. Since then the house has been progressively extended and altered.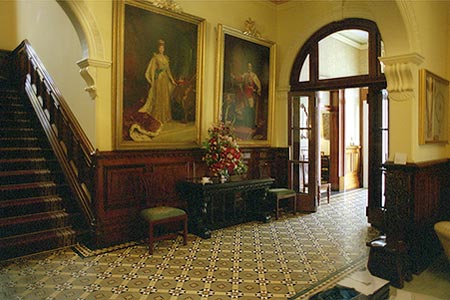 The entrance hall designed by Gailey in 1882 had a floor covered with small ceramic tiles in a range of plain colours laid in geo­met­ric patterns, with decorative encaustic tiles inset​—​a char­ac­ter­is­tic feature of good quality Victorian buildings.
These tiles were covered with fixed wall-to-wall carpet in the 1950s, and revealed​—​to the surprise of the household​—​when the carpet was being replaced in 1999.
I was asked to look at the floor, and to advise on its treatment. I recommended revealing the floor fully, making some minor re­pairs, and monitoring the con­di­tion of the tiles.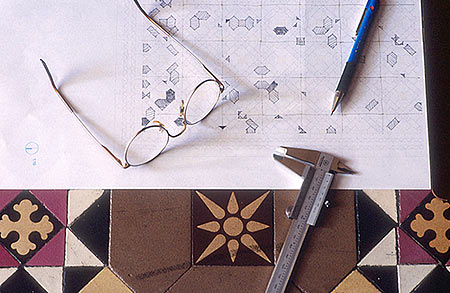 After the repairs were done, I made a detailed plan of the layout of the tiles, and recorded every tile that was cracked or chipped. This record, made in 1999, was to be the baseline for future mon­i­toring.

In 2007 I was asked to examine the floor again, and report on any deterioration that had occurred​—​I was pleased to report that there was very little.